Hydraulic & Pneumatic Seals
Roeming stocks all different sizes and shapes of hydraulic and pneumatic seals for virtually any manufacturer of hydraulic cylinders,as well as hydraulic presses, and injection molding and rubber molding presses. Our work with OEM's with high volumes, and our hands-on experience with maintenance personnel and their equipment assists us in providing seals to fit the most challenging machines. Uncommon sizing and shapes are never a problem - helping meet the needs under different pressures and temperatures. We'll even help design new seals on prototypes of new machine designs for you!
Packing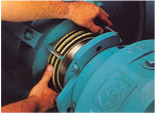 Our packing is designed to give our customers the greatest return on their investment in terms of leakage control and service life - all at a cost-effective price. We carry packing made of graphite, carbon, TFE, aramid fiber, fiberglass and flax. We supply die-formed rings, and packing hooks, as well as braided packing from Garlock and Sepco for all of your pump and valve applications.
Roeming Industries has the ability to help you solve sealing problems or custom design a sealing solution for you. If we don't have the cross section you want, we'll be happy to order it for you. We supply what you need, when you need it, because our knowledgeable support staff has the answers to all of your packing needs.